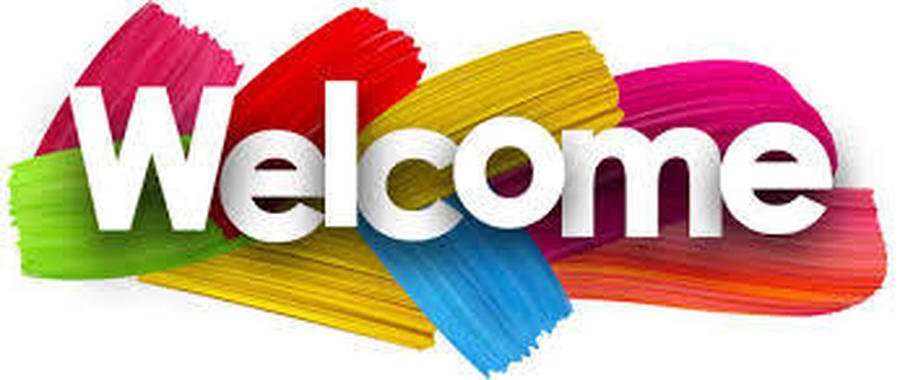 Welcome to Pankurst Class' page! We are a wonderful group of Year 6 children who
are loving being the oldest in school! As a class, we enjoy playing football, reading
interesting books and learning all about the world and its amazing history.
Our teacher is Mrs Griffin :-) she enjoys listening to music, reading and exercising.
Even though this year is going to be our last year at Haslam Park Primary School, we are determined to have a wonderful year and make it our most successful yet.
In our class, we are supported by Miss Sherwood (a huge Bronte fan), Miss Mercer (who loves reading our class texts as much as we do!) and Miss Louise (the most wonderful artist). We are all very grateful for their help and together we make the most amazing team of children and adults :-)
Please keep visiting our class page throughout the year to see updates about what we are learning about, the AMAZING work we produce and any other exciting events.
OUR CLASS NAMESAKE: Emmeline Pankhurst (1858–1928) was a leader of the British suffragette movement and she worked incredibly hard for women's rights.
She spent 40 years campaigning so that women were able to vote alongside men.
We are very proud to have the name 'Pankhurst Class' particularly as she was born in Greater Manchester!
HOME SCHOOL PLANNING
Below you will find the weekly planning for Pankhurst Class while we are learning from home.
There is an expectation for you to carry on learning at home and we have provided some wonderful online resources for you to access from home.
I will be checking for your completed work online and will reward all of my lovely hard workers with DOJOs and shout-outs online :-)
Mrs Griffin
Wednesday 22nd April
EARTH DAY
On Wednesday 22nd April, it is 'Earth Day'

On Earth Day, we take time to consider climate change and ways that we can help take care of our amazing planet.

Here is a website I'd like you to take a look at. I'd love to see some posters about how we can help our earth!

https://www.earthday.org/earth-day-2020/

:-)
Mrs Griffin
Enter text...
Home Learning...
I'd like to thank all children,parents and carers for taking the time to engage with the activities and learning platforms we have offered and set up.
Please find attached the timetable for learning for the upcoming weeks. This is subject to change, but I will keep you updated with any proposed changes.:-)
I've tried to keep it light and fun, with enough time to enjoy family time and the lovely sunshine.
Below are some home learning activities that your child can be getting on with while school is closed. Please don't hesitate to get in touch if you need anything. Thanks, Mrs Griffin.
| Name | |
| --- | --- |
| Answer-Pack---Expected-Standard.pdf | Download |
| Answer-Pack---Expected-Standard.pdf | Download |
| Answer-Pack---Greater-Depth.pdf | Download |
| Answer-Pack---Working-Towards.pdf | Download |
| easter-egg-biscuit-recipe.pdf | Download |
| Spring Activity Booklet Answers.pdf | Download |
| Spring Activity Booklet.pdf | Download |
| Ten-for-Ten-KS2-Maths-Practice-Booklet---Greater-Depth.pdf | Download |
| Ten-for-Ten-KS2-Maths-Practice-Booklet---Working-Towards.pdf | Download |
| times-table-games.pdf | Download |
Our current:
Topic: Mountains around the world- a comparison study.
Science topic: Light and how we see.
Computing unit: Digital Literacy
Writing text: 'Clockwork' by Philip Pullman
Maths Focus: Decimals, percentages and fractions.
Design Technology: Levers and Pulleys
PE unit: basketball (outdoor games)
Fencing (indoor PE)
Thursday 5th March
SUPER SCIENCE!
Year 6 are absolutely loving their science topic- 'light and how we see'
We've been experimenting with sources of light and how we can 'bend' light.
Tuesday 25th February
Welcome back...straight back to business!
After a lovely week off school, our determined year 6s are straight back to work!
In maths, we have been learning how to calculate the 'mean average'.
The "mean" is the "average" you're used to, where you add up all the numbers and then divide by the number of numbers.
Try the questions below with your child...they're getting pretty quick at it!
Friday 14th February.
First of all, 'HAPPY VALENTINES DAY!'
To finish our Indus Valley history topic, we looked carefully at artefacts found in excavation sites and used this information to design jewellary sympathetic of this era.
Displaying our INCREDIBLE work!
Wednesday 28th January 2020
Pankhurst and McKellen Class have been working hard in writing lessons. We read the book 'Tuesday' by David Wiesner and explored some of the reactions of the characters before writing a formal police report.
The theme of mystery completely intrigued year 6 and we have produced the most incredible pieces of writing. Mrs Griffin, Miss Fedtschyschak and Miss Sherwood couldn't wait to display our work!
Perfect Passing in PE
Tuesday 21st January 2020
year 6 have been learning all about the different passes needed during a game of netball. So far, we've perfected: bounce passes, chest passes and shoulder passes. We have also been working on not moving with the ball and using a 'pivot' action.
Spectacular Start to Our Science Unit!
Friday 10th January 2020
Mrs Griffin was super impressed with our science work today. We were introduced to the scientist- Carl Linnaeus- who created a sophisticated classification system for all living organisms.
We were given a pile of images of living organisms and we had to organise them into:
We used what we already knew about the living organisms (plant, animal, mamma, carnivore etc...) and what we could glean about the organism from the image to help us to organise them to categories.
Our currrent:
Topic: World War 2
Science topic: Animals and living things
Computing unit: digital Literacy linked to WW2
Writing text: 'The Lost Magician' by Piers Torday
Guided reading text: 'The Mozart Question' by IMichael Morpurgo
Maths focus: Fractions
Art/DT: 'Make do and mend' toys.
PE: gymnastics (indoor) and rugby (outdoor)
We will be using 'Spelling Shed' to reinforce any spelling patterns taught during spelling lessons. This is a fantastic resource and lots of fun to use.
16th December
Design & Technology
As we head towards the Christmas break, Pankhurst have been super busy finishing all of the amazing projects we've been working on.
Mrs Griffin was BLOWN AWAY with how quickly we picked up new sewing methods when creating our 'make do and mend' toys. We thought carefully about the design process and we are delighted with the final products!
Fantastic Fractions
9th December
This week, year 6 are learning how to divide fractions by whole numbers. We are using a range of visual tools to help us to understand why, when we are dividing, the denominator gets bigger! Tricky, eh?
Stay tuned for photos of the incredible fractions work from this week....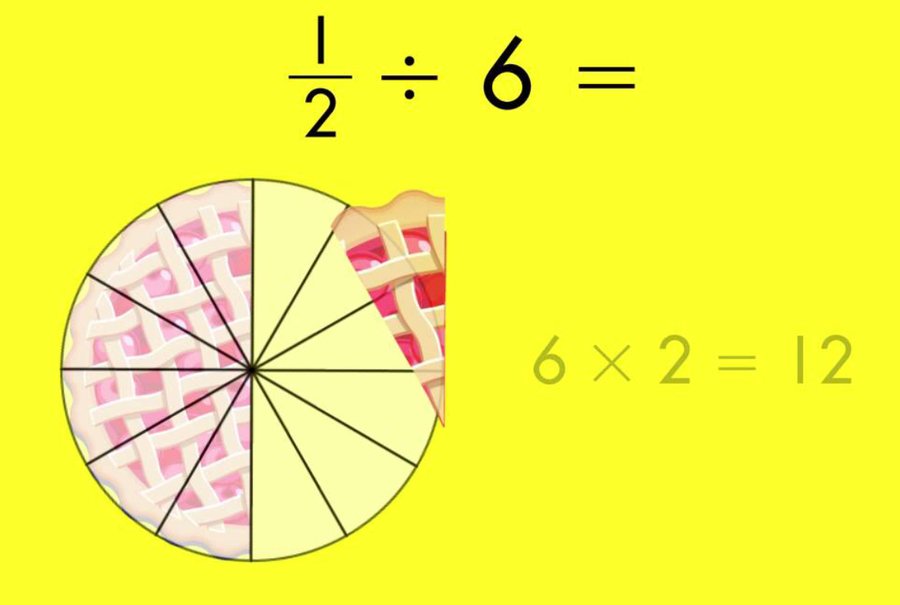 The Mayor's Christmas Concert 2019
6th December
We were incredibly lucky enough to be invited to attend The Mayor's Christmas Concert today. We prepared by learning songs, making amazing festive hats and we even created our own musical instruments using plastic milk cartons.
The orchestra was INCREDIBLE and we were all totally engrossed in the beautiful music. What a lovely way to spend a Friday morning!
ROBINWOOD 2019!
32 year 6 children conquered Robin Wood last week (27th-29th November)
They :scaled enormous climbing walls with ease; squeezed their way through deep, dark 'caves' and zoomed down the zip lines, dancing as they glided.
Not only did they complete ALL activities with ease, but they behaved so impeccably that 'Valley Group' leader commented that Pankhurst Class had been one of the best groups he'd ever had the pleasure of meeting. What a compliment!
Mrs Griffin was (and still is!) beaming with pride.
Tuesday 26th November
what an incredible VE Day party! We had our lovely visitors (Friends of Fun Foods) In to teach us all about Victory in Europe Day and of course, we got to sample the food on offer.
Year 6 have been AMAZING in maths recently.
Fractions can be really tricky, but using the right resources - and a little resilience- they have made amazing progress in their fraction learning.
Road Safety Week 2019-
18th November
Pankhurst class have been busy refreshing our knowledge of staying safe on the roads. We discussed the different types of crossings, and what our obligations are as responsible pedestrians.
In small groups, we produced ACROSTIC poems filled with important advice about road safety.
Tuesday 12th November - Friends of Fun Food
Year 6 had some very special visitors today! 'Friends of Fun Food' came in to give us a wonderful baking lesson. We baked 'national loaf' which was an easy and popular bread recipe during ww2.
Not only did we bake break, but we also taste-tested a range of chutneys, including marrow chutney, apple chutney and tomato chutney. So much fun!
While it was lots of fun, it also gave us an insight into how the 'home front' used their rations to create tasty food!
Monday 11th November 2019
The Home Front
As part of our WW2 topic, we have been learning about propaganda campaigns from the 1940s. The 'Dig for Victory' campaign was designed to encourage people to grow their own food in order to stay strong and healthy during the war
We thought of our own slogans, and designed posters.
'Veg for Life' 'Grow Veg' and 'Veg for Victory' were some of our fantastic slogans.
We also took part in a respectful one minute silence today to mark 'Remembrance Day'.
HOMEWORK HELP
As part of Year 6 provision, we have given the children a SPaG booklet to help them to enhance learning at home.
Here is a video all about relative clauses. Please watch- it may help with your homework, year 6.
Tuesday 5th October
SHOW RACISM THE RED CARD!
Wow! What a trip! We were kindly invited to Bolton University Stadium to take part in a number of workshops that were aimed at tackling racism in football. We had an amazing time touring the stadium, hearing first-hand from some of football's current stars about how racism had affected them and discussing some of the issues surrounding racism within football and society.
Year 6 were incredible and contributed so much to the discussions with their maturity and amazing knowledge!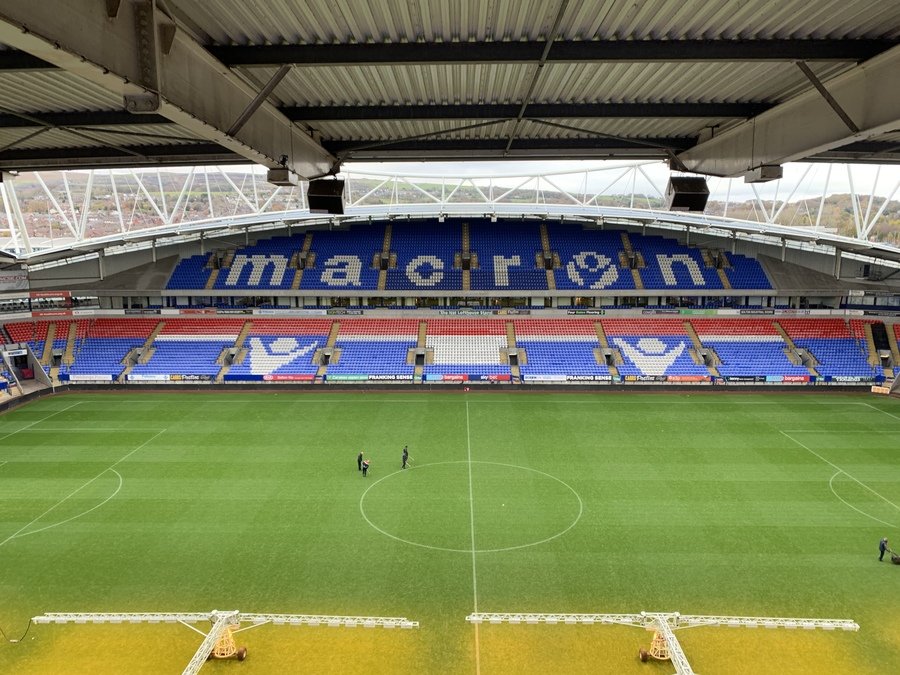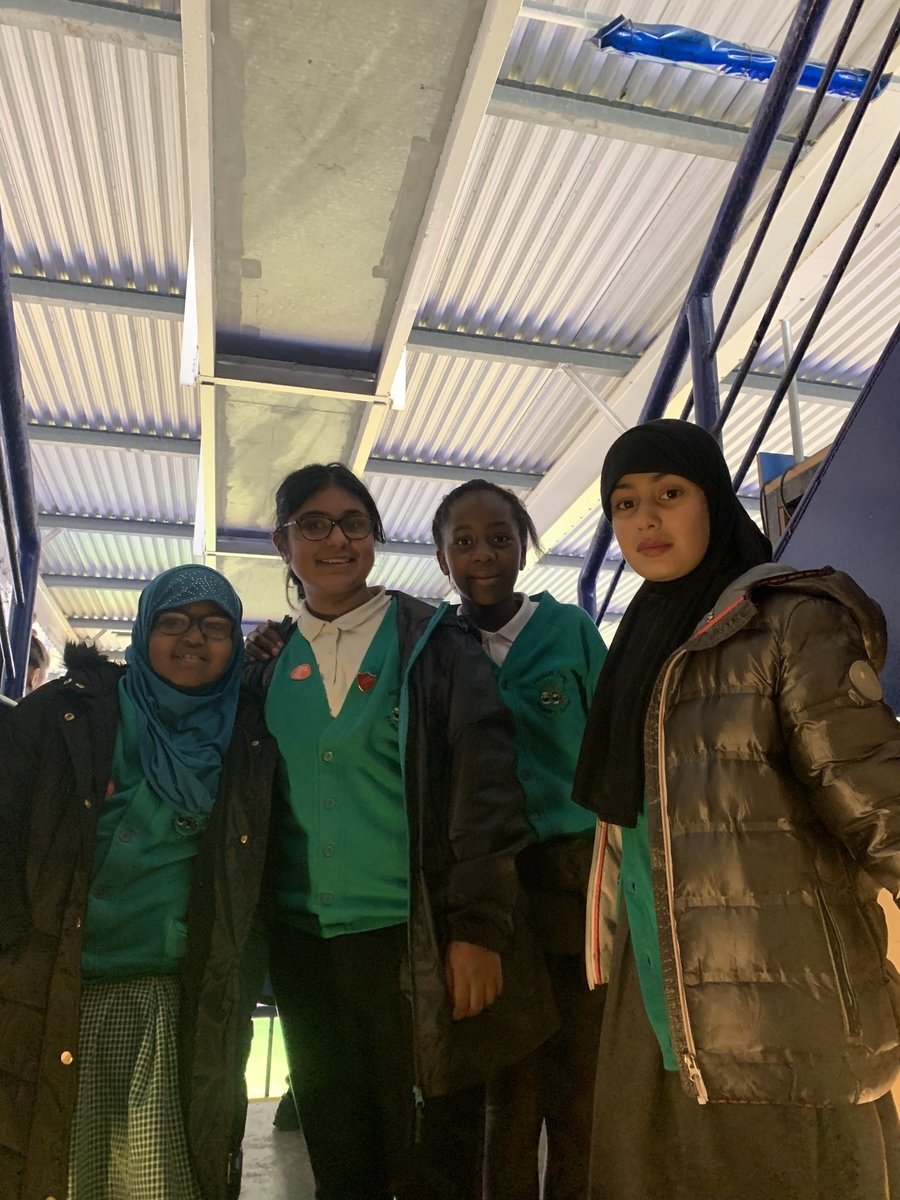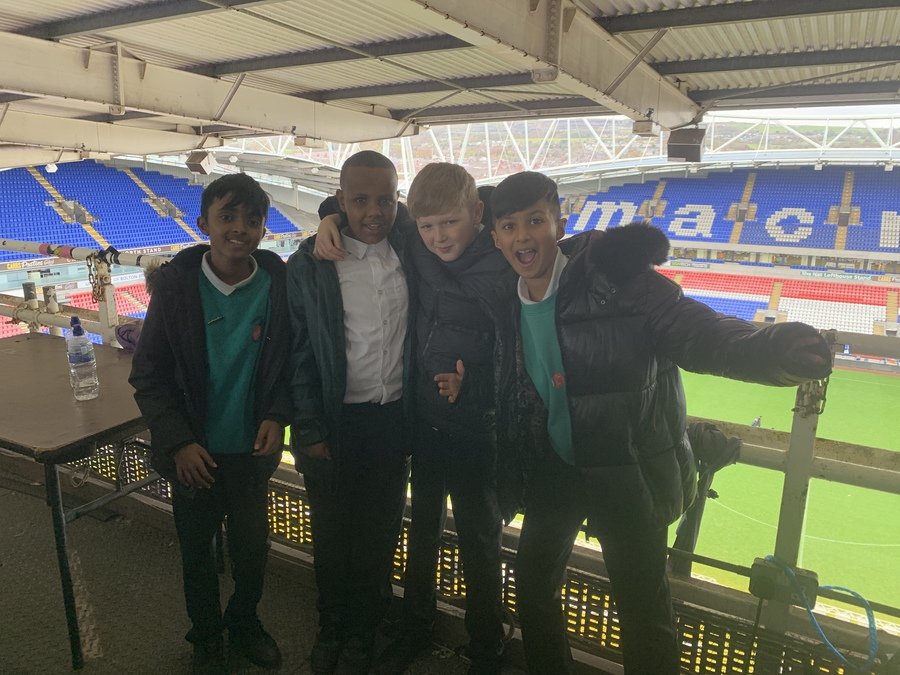 Wednesday 6th November 2019
A Great Big Well-Done!!
Mrs Griffin was overjoyed when she logged on to Spelling Shed to see that Pankhurst Class was number 1 in the school league.
We have been working incredibly hard to improve our spelling and it is really paying off in our independent writing, so this is a huge thank-you to all the children and parents who have spent the time to enhance our learning at home.
Marvellous Maths....
30th October 2019
In maths, we have been learning how to calculate and identify squared and cubed numbers.
To find square numbers, we times a number by itself.
e.g 4 x 4
To find cubed numbers, we times a number by itself and then times it by itself again. eg. 3x3x3
Amazing Art
18th October 2019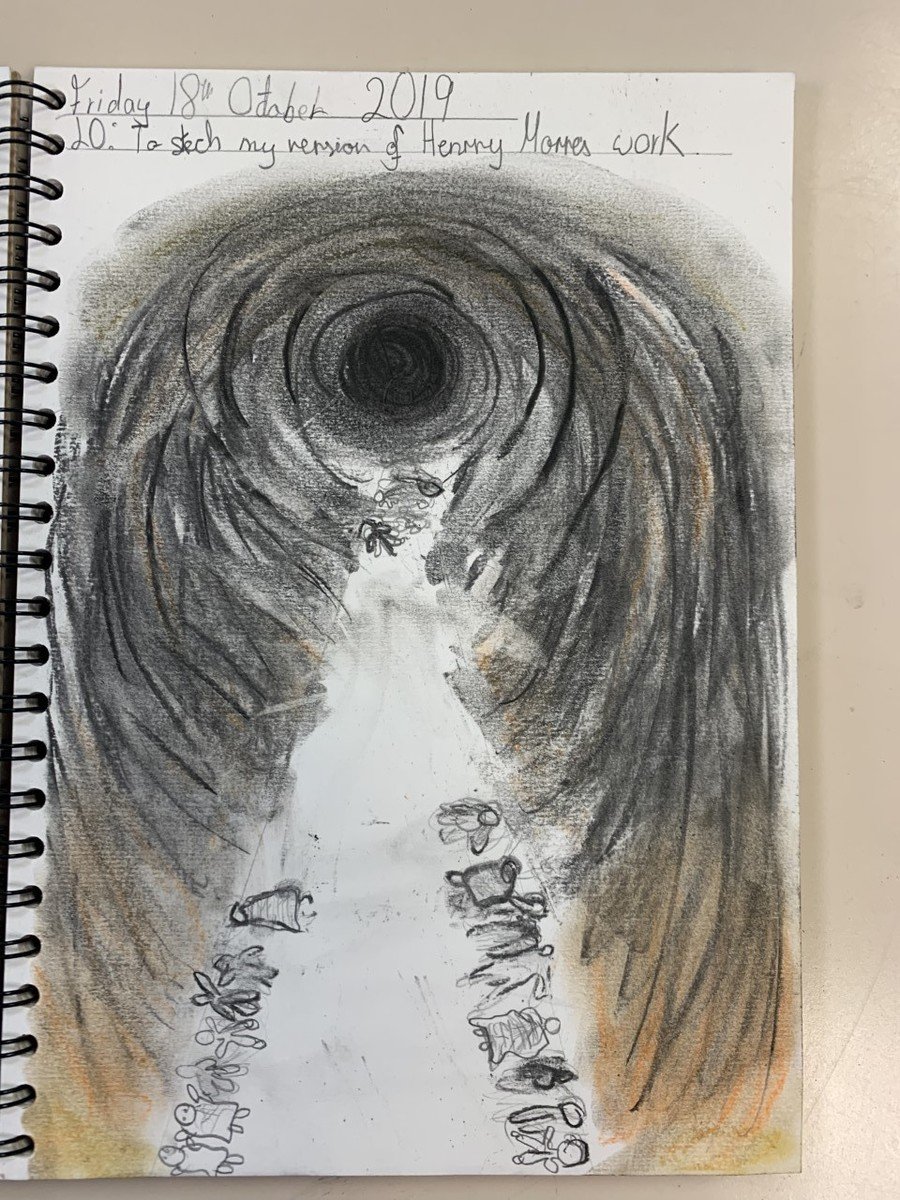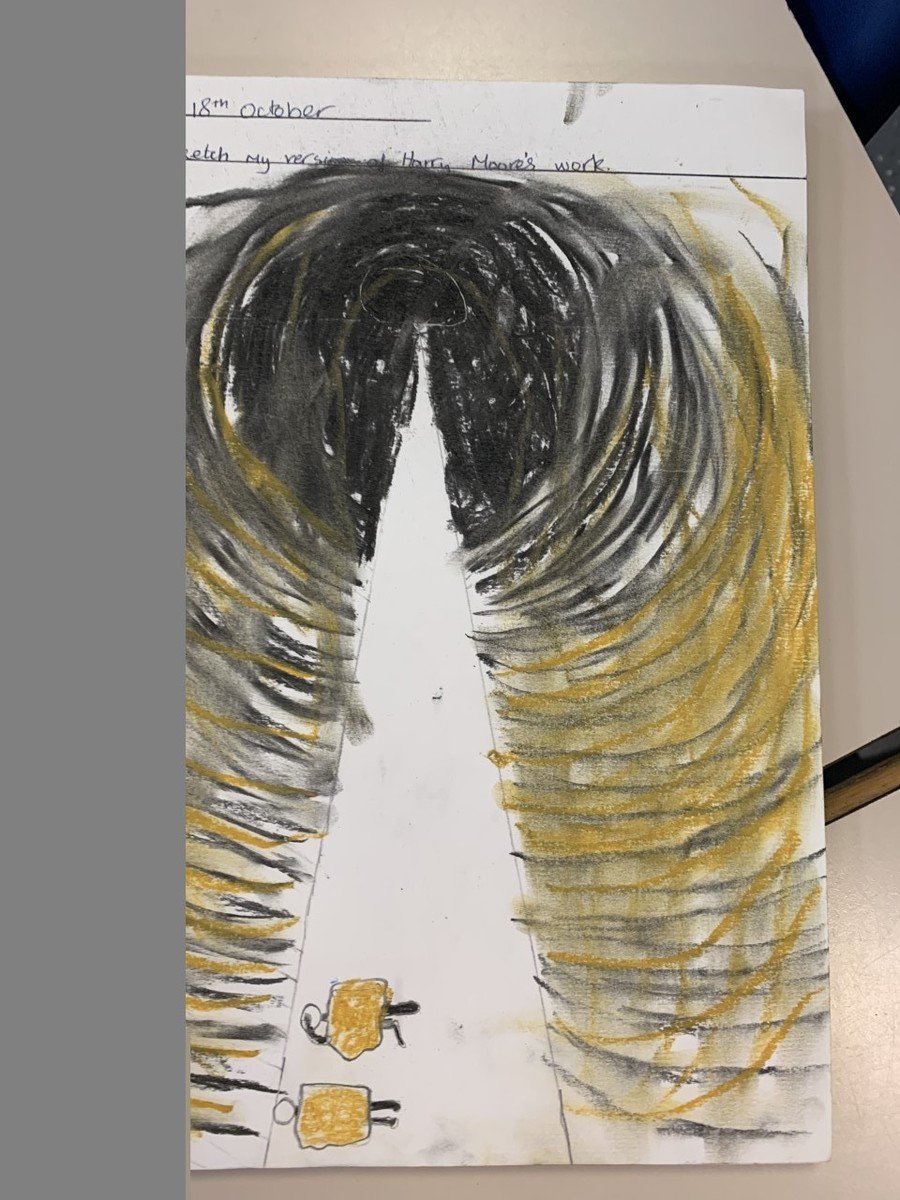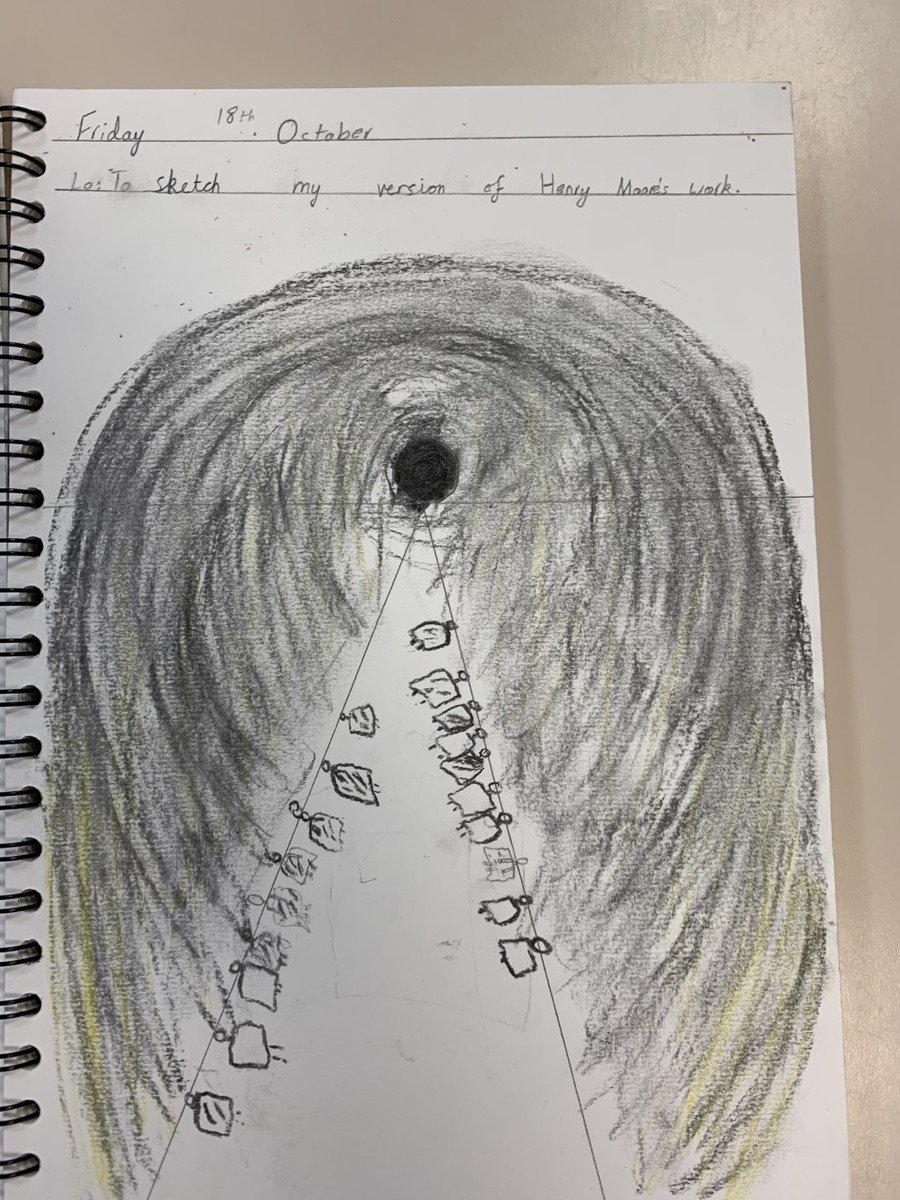 Henry Moore
This half-term, we have really enjoyed learning about what inspired Henry Moore and his beautiful sketches. He was inspired by his visits to air raid shelters during WW2. He focused on perspective, tone and colour.
We have so enjoyed learning how to use perspective to create a work in the style of Henry Moore.
1st October 2019
Pankhurst are absolutely loving Spelling Shed!
Our spelling test scores are brilliant because we love learning while playing the games. ...
Watch Piers Torday discuss our fantastic English text for Autumn. ...
8th October 2019
Wow! Rose Blanche has had us all hooked in Pankhurst Class! The story of a young girl living in Germany, uncovering horrible truths about WW2 has provided us with lots of writing, reading and drama opportunities. We are currently in the process of writing monologues from the perspective of Rose's mother.
To help us to understand and empathise with her feelings, we have enjoyed drama activities and collecting ideas and words/phrases that we feel reflect her thoughts and feelings.
Watch this space for our wonderful monologues.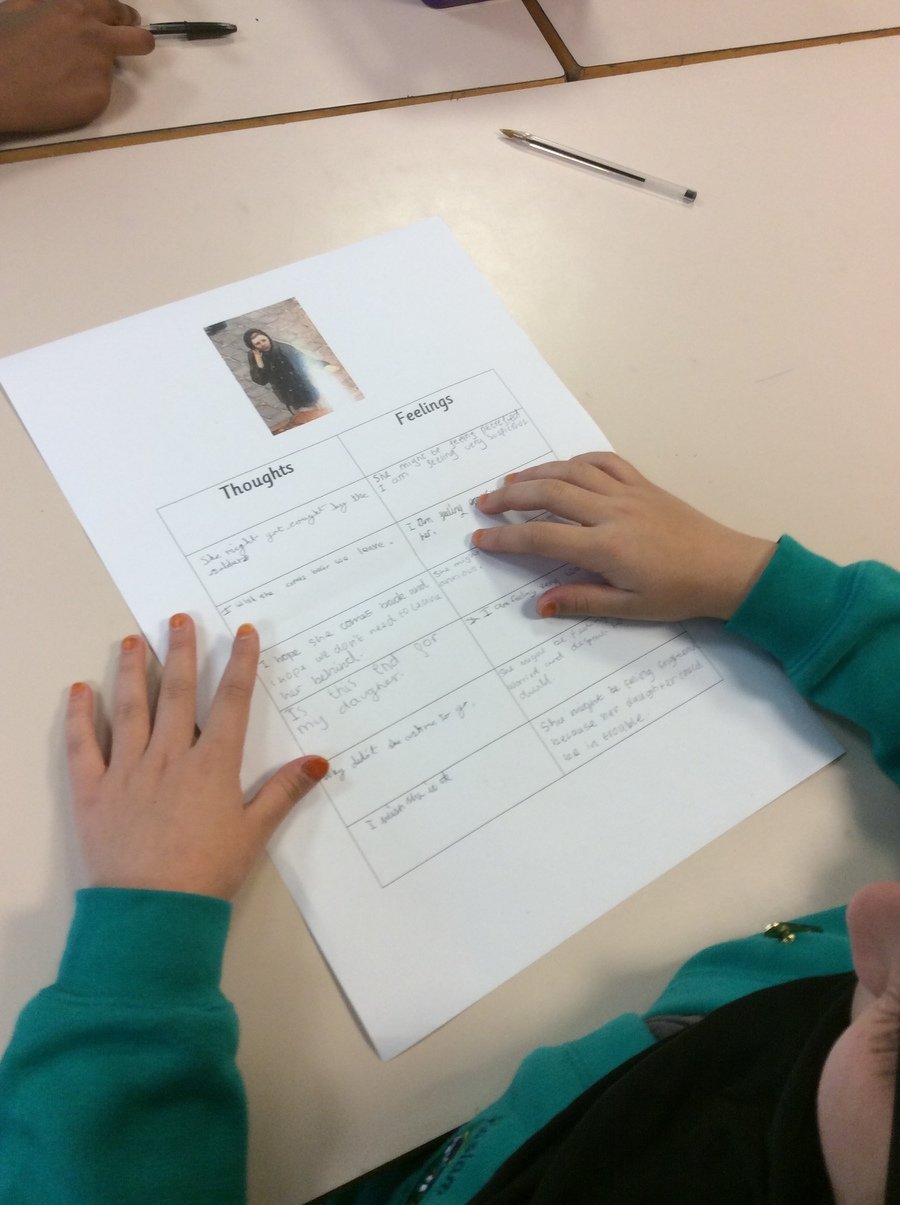 Monday 9th September
Today, we have been learning about the different parts of a flower and how some plants self-pollinate. We had to find all of the different parts of a flower and their definitions that Mrs Griffin had 'planted' around the room.